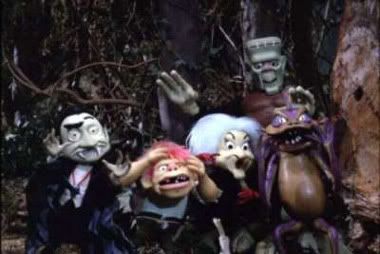 This Halloween, Mrs. Winton and I are going stay in while while the boy goes off  with his best friend and his family.  You see, his buddy's grandma lives in a rather upscale neighborhood, the kind where the houses give out full sized candy bars.  They're going to try and pull a costume change and double up on the booty.  In his younger years we always went out together, exploring many neighborhoods that we wouldn't have otherwise.  Rockridge, Brea, La Jolla and many more lovely towns have entertained us with awesome displays and generous treats. Anyhow, like I said, me and the Mrs. are staying home.  Unfortunately, our street is very poorly lit and the neighbors don't decorate.  In other words--no more than 5 trick or treaters will pay us a visit!  So we've decided to curl up with a couple of classic monster movies.  I thought that it would be a good time to recommend a few of my Halloween favorites that also happen to be very kid friendly, even safe for the little ones.
The Ghost Breakers
First off, a movie I discovered earlier this year--
The Ghost Breakers
. It's a delightful Bob Hope vehicle, seemingly one of his lesser know films.  Quick paced comedic interplay between he and co-star Paulette Goddard keeps the simple haunted house gags from wearing thin.  In a similar vein there's the much more well known
Abbot and Costello Meet Dr. Frankenstein
.  How many parents remember seeing this on TV back in the 70's?  I certainly do.
The Ghost & Mr. Chicken
Another film that used to screen around the holidays was
The Ghost & Mr. Chicken
. It's got Don Knotts, a haunted organ & a Vic Mizzy score.  Mr. Mizzy just passed on last week, he's best known for his
Addams Family
theme--always a possible option for your Halloween night viewing.  The short lived TV series ages quite well, its wit and subversiveness unparalleled in its time.
The Munster
Of course if you want to continue down the old TV route, a couple of
Munsters
episodes might do the trick.  Much more lighthearted and silly than the Addams', Herman & Lily's brood are always worth a revisit.
Mad Monster Party
The ultimate in groovy mid 60's Halloween camp has to be
Mad Monster Party
.   Phyllis Diller, Boris Karloff and pop-psycher Gale Garnett voice a crazy cadre of claymation creatures, very much in the same vein as the Rudolph Christmas special with Burl Ives--if you mixed in mop top bands & cocktail parties! Anyhow, just thought I'd give you a few ideas to spice up the evening after watching Charlie Brown.