St. Patrick's day may not seem to be a holiday aimed at children, what with the whiskey spilling and the jigging and what not. But I've roamed through the St. Patrick's day parade in New York City on more than one occasion and found countless kids perched on their parents' shoulders swathed in green, sometimes even drinking an ominous green liquid from their bottle. While there's no shortage of gifts to have your kid don for this joyous celebration, here are some great ones that will at least make you laugh.
Irish Fancy Pants Embroidered Diaper Cover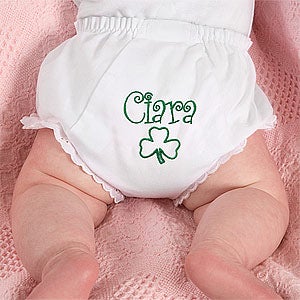 Because nothing says Happy St Patrick's Day like a
personalized diaper
with the baby's name on it. Made of cotton/poly blend with embroidered eyelet trim at leg opening. Includes soft elastic waist. Machine washable. Available in 3 sizes.
Irish Trouble - Bib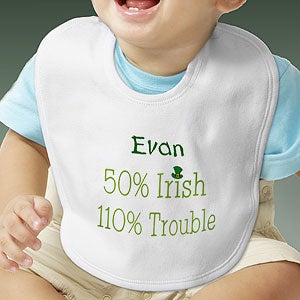 Another personalized piece,
this bib
pretty much sums up every parents' thoughts on their child at one time or another, and thankfully it's machine washable.
My First St. Patrick's Day Sigg Water Bottle
While there may be a good chance you might need water more than your child by the end of the night,
here's a bottle
that proudly displays the occasion.
First St. Patrick's Day Infant Bodysuit
Ever notice that corned beef and cabbage has the same consistency as baby food? Well your kid won't notice the difference either way, but think about it when you delve in this year.
This bodysuit
has a 3 snap bottom for those easy diaper changes.