Have you all been enjoying the
love we have been showing Elvis
in recent weeks? I was raised listening to the King, along with Frank Sinatra. They were two of my dad's idols, and fit his two (Gemini) personalities: the rocker and the crooner. When he sang Elvis, it was always with guitar in hand -- like the Ramones, my dad only knows three chords, but that's all he needed (that and a lot of intense facial expressions) -- and one of the songs he'd play at parties was "Heartbreak Hotel."
Fast forward a decade or so later, and I come across a very posh, Golden Age-decorated coffeehouse on the bottom floor of the historic Knickerbocker Hotel in Hollywood. The owner shares all these amazing stories about the history of the Knickerbocker involving Houdini, DW Griffith, Marilyn Monroe and Elvis. He tells me the King stayed there often and the hotel actually inspired the song "Heartbreak Hotel," a story I promptly shared with my dad. Fast forward
another
decade plus, in the smartphone/tablet/Google Glass age, and I finally take the time to fact-check this piece of trivia and it's wrong - at least the part about the hotel inspiring the song. (Any articles or books that say so are inaccurate...their source was probably the coffeehouse owner and who knows who told him. Though it is a great Hollywood story, isn't it?)
Listen to a sample of the lullaby rendition of the song HERE.
Of course, "Heartbreak Hotel" still rocks today, regardless of what inspired it. And while I didn't know much about the song then, I sure do now. So how about you? Up for a "Heartbreak Hotel" song quiz?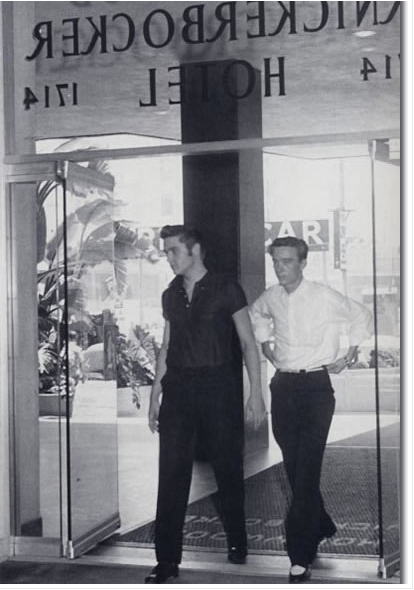 What year was the song released? A) 1953 B) 1954 C) 1956 Who wrote the song? A) A high school teacher B) A bellhop C) Neither of the above Where did Elvis first perform the song? A) Nashville, Tennessee B) Swifton, Arkansas C) Jacksonville, Florida Which of these artists recorded a cover of the King's "Heartbreak Hotel"? A) Whitney Houston B) Jackson 5 C) Willie Nelson Which of these isn't in the song's lyrics? A)
I found a new place to dwell
B)
I am so happy, I could fly
C)
Just take a walk down lonely street
Post your guesses below by Sunday, Oct. 13, 8 pm ET! Everyone who posts their answers below are automatically entered into our random giveaway for Lullaby Renditions of Elvis, whether you get the answers right or not.
The point is to have fun!
Three (3) winners will be selected!
And if one or all get the right quiz answers, we may add a little something to the prize package.